TL;DR Version:
Brief Bio on PewdiePie
PewdiePie more commonly known as Felix Arvid Ulf Kjellberg to his 50,000,000+ YouTube Subscribers created his channel back in 2010 and has since gathered over 14 billion combined video views, He is known for his sometimes controversial humor. Since creating his channel he has since moved on to more real life based videos instead of constant let's plays and currently uploads pretty much daily maintaining an impressive average view ratio. He is said to have earned over $120,000,000 pre-tax since 2010 so it's pretty clear to see that someone like him can buy the absolute best tech ever made and try out everything leaving you with the simple alternative to just already pick something your favorite YouTuber is using.
Related Post: Best Noise Cancelling Headphones Under 200
Current Headsets as of 2020
Since the popularity of sites like this, Razer have realized gamers want the same headset's their favorite YouTuber's use. For a limited time only, you can get Pewdiepie's Custom Red Razer Kraken v2 Headset. It works pretty much exactly the same as the other headset listed above but just has a cooler design and you can be sure that Felix endorses it.
Pewdiepie's Other Headset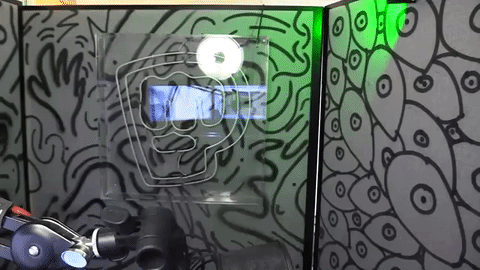 Do you want the same Headphones?
Pro's
Wireless Headset
7.1 Surround sound
Low Latency
Up to 10 hours wireless power
Memory Foam Microfiber ear pads
Noise canceling microphone
Fold up microphone
More Information
If you have been watching any of PewdiePie's recent videos in 2017 you will seem him wearing a big black headset. He has the microphone folded up which makes it looks like there isn't one attached. He is wearing a new edition of the Razer Kraken wireless headset. He has them in red which don't seem to be publicly available right now but aside from the color everything technically is the same as the black pair. The headset is made by an American company called Razor who primarily make computer components for gaming. They have branched out into audio and now do a pretty good job creating headsets perfect for twitch streamers and just casual gamers.
Our Review of the Razer Kraken Wireless Headset
This headset comes with a mixed review based on a couple of different factors to do with the comfort and sound quality. First of all the positive features include the wireless function, you can expect to use these for up to 8-10 hours wireless without losing power or quality. They have low latency, long frequency and next to no lag which is exactly what you want from a good wireless headset otherwise they would be pretty much useless. The headset is exceptionally good for people like twitch streamers, gamers and movie fans due to features like comfort and the microphone but the thing is if you want a headset for music there so many better headphones you can buy purely for sound quality. Pewdiepie normally just uses the headphones for videos where he is just listening to gameplay or reacting to YouTube videos. You can wear these headphones for long periods of time and either fold up the extendable mic which Felix does which will automatically mute the mic or you can make use of the decent quality noise canceling mic with it folded down.
TL;DR
Get this headset if you're a gamer, Get something else if you want it for music.
SaveSaveSaveSave
SaveSave